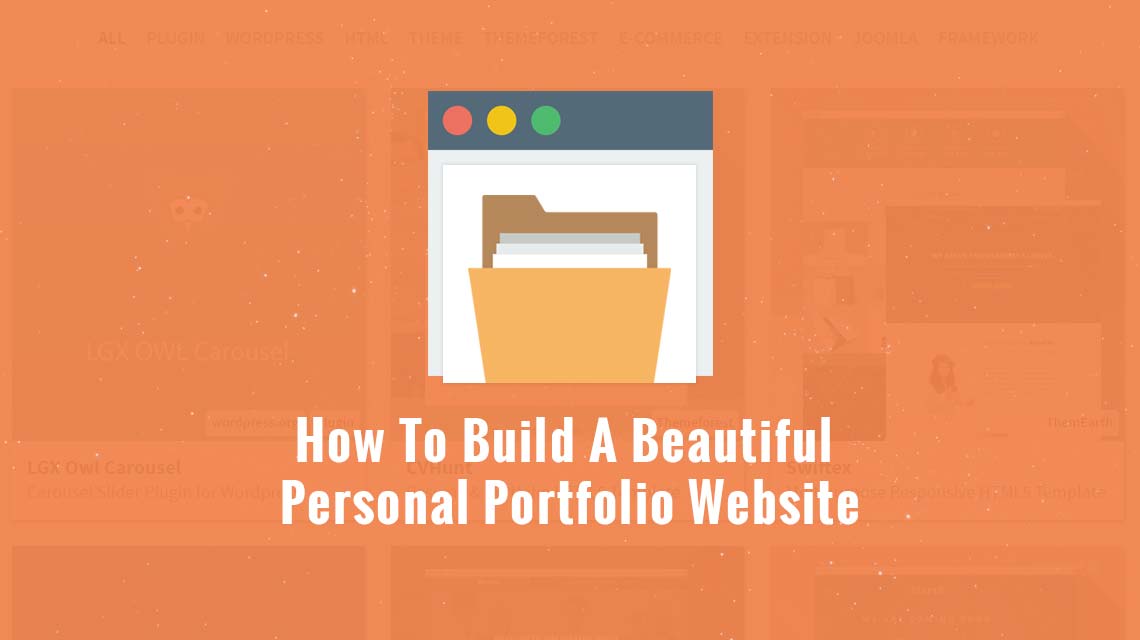 A Personal and Career Portfolio is an organized collection of evidence that shows your accomplishments both in and out of school. A portfolio contains samples of your work that exhibit and reveal the quality and variety of your learning, your accomplishments, your skills, and your experiences.
A personal portfolio website is all about promoting you. You are a brand, and your name is a brand name. No one is going to know about your brand unless you get it out there; and if you're a Web designer, developer, writer, gamer or any other type of creative, then it's essential that you have a good portfolio website.
Career portfolios help with a job or acceptance into higher education institutes. A career portfolio should be personal and contain critical information. A career portfolio is used as a marketing tool in selling oneself for personal advancement. In some industries, employers or admission offices commonly request a career portfolio, so it is a wise idea to have an updated one on hand.
What makes for a good personal portfolio websites?
Logo:
Logo is a most vital issue for a website. It promotes one`s site to the visitors. A logo is a graphic mark, emblem, or symbol commonly used by commercial enterprises, organizations and even individuals to aid and promote instant public recognition.
At the level of mass communication and in common usage, a company's logo is today often synonymous with its trademark or brand. It doesn't necessarily have to be your name, but if you're trying to promote yourself online, then it's a good idea to go by your name.
Tagline:
In entertainment, a tagline is a short text which serves to clarify a thought for, or is designed with a form of, dramatic effect. Many tagline slogans are reiterated phrases associated with an individual, social group, or product. As a variant of a branding slogan, taglines can be used in marketing materials and advertising.
The tagline is sometimes confused with a headline because information is only presented with the one or the other. Essentially the headline is linked to the information; Once the information changes, the headline is abandoned in favor of a new one. Your tagline should be short and snappy, summarizing what you do.
Service:
Using resources, skill, ingenuity, and experience, service providers effect benefit to service consumers. Thereby, service providers participate in an economy without the restrictions of carrying inventory (stock) or the need to concern themselves with bulky raw materials.
You can't expect potential clients to guess what you do based on your portfolio, and you don't want to leave them wondering whether you offer a particular service or not. Make it clear, and break it down: Web design, development, video, copy writing, branding, etc. You may want to be even more specific: corporate branding, church website design, Flash banner ads and so on.
About me:
Writing about yourself presents a great opportunity to differentiate your profile from the pack in any matrimony site. Don't just focus on hard facts. Try projecting your personality through the description. If you are humorous, don't be shy from bringing this out through the description.
The more details you give, the better your users can form a bond and build trust with you.
If you're not camera-shy, show a picture of yourself. This will give potential clients peace of mind by allowing them to see who they're dealing with, and it adds an element of trust.
Contact:
This is one of the most important elements of a portfolio website but is often hidden or even neglected. A potential client has browsed your website, is impressed with your portfolio and can see who you are. Now they want to hire you.
Customer service facility that houses all inbound and outbound communication channels of a firm (phone, voice-mail, fax, email, website, regular mail). The new software company found the most difficult part of a startup was staffing for the customer contact center for new customer support.
Your contact information should be obvious and easy to access; don't hide it in the footer. Let people know they can contact you for a quote or a chat. Use a form to make it easier for users to contact you
Blog:
A blog is a discussion or informational site published on the World Wide Web consisting of discrete entries posts typically displayed in reverse chronological order. Let people follow you by subscribing to an RSS feed, and show off your most popular blog posts to new readers.
A blog is always a good idea. Blog about your area of expertise; show you know what you're talking about. It will help promote you and prevent your website from lying static.
Call to Action:
In marketing, a call to action (CTA) is an instruction to the audience to provoke an immediate response, usually using an imperative verb such as "call now", "find out more" or "visit a store today".
Each page should have a call to action, a Next step . The best way to accomplish this is with a "call to action" button that is clear and stands out from the rest of the page. Link it to your blog, portfolio or contact page, and use appropriate language (e.g. "Hire me," "Request a quote," "View my portfolio").
Use Social Networking Websites:
A social networking service is a platform to build social networks or social relations among people who share similar personal and career interests, activities, backgrounds or real-life connections. The variety of stand-alone and built-in social networking services currently available in the online space.
Now that people have an interest in you and your work, encourage them to follow you on other websites. Make it clear that they can follow you on Twitter, Facebook, Flickr, LinkedIn etc. Make the most of social networks and have a group of friends to call on if needed.
Language & Communication:
Language is the ability to acquire and use complex systems of communication , particularly the human ability to do so, and a language is any specific example of such a system. The scientific study of language is called linguistics.
How you conduct yourself is important. It's a personal portfolio website, so be personal. You don't need to sound like a corporate brand with no emotion. Be friendly and personal, but also clear and precise; don't ramble. Once you write all the text for your website, read it again and see if you can cut it in half.
If you any query please inbox me