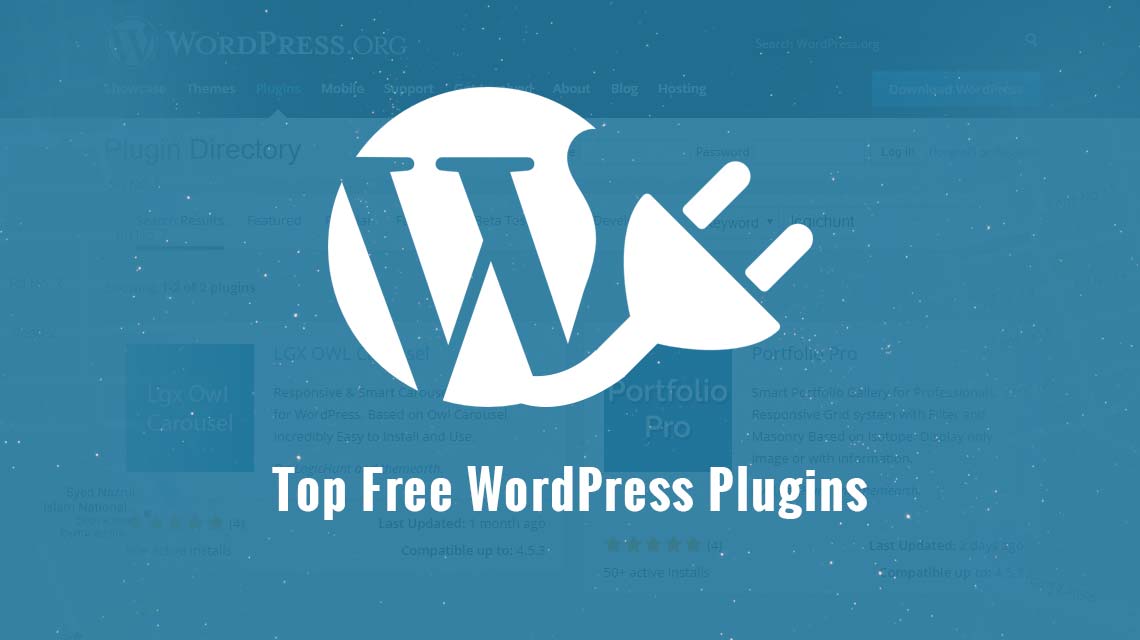 WordPress is an online, open source website creation tool written in PHP. It's probably the easiest and most powerful blogging and website content management system (or CMS) in existence today. You'll also learn about WordPress themes and plugins, how to create your first post or page, and optimize your site for search engines—all with helpful links to video tutorials.
WordPress started as just a blogging system, but has evolved to be used as full content management system and so much more through the thousands of plugins and widgets and themes, WordPress is limited only by your imagination.
We have selected top free essential wordpress plugins for rapid development. We hope it will be helpful for your justification that what plugin you should use for rapid development.
Jetpack by WordPress:
All Time: 27,197,779 & Active: 1+ million
Increase your traffic, view your stats, speed up your site, and protect yourself from hackers with Jetpack. Jetpack simplifies managing WordPress sites by giving you visitor stats, security services, speeding up images, and helping you get more traffic. Jetpack is a free plugin.
With Jetpack comes a centralized dashboard on WordPress.com. Manage plugins and menus, publish posts, and view enhanced site stats for all of your sites.
Details: https://wordpress.org/plugins/jetpack/
BuddyPress:
All time: 4,490,200 & Active: 2,00,000+
BuddyPress helps you build any type of community website using WordPress, with member profiles, activity streams, user groups, messaging, and more. BuddyPress is a suite of components that are common to a typical social network, and allows for great add-on features through WordPress's extensive plugin system.
BuddyPress is focused on ease of integration, ease of use, and extensibility. It is deliberately powerful yet unbelievably simple social network software, built by contributors to WordPress.
Details: https://wordpress.org/plugins/buddypress/
Yoast SEO :
All time: 31,569,381 & Active: 1+ million
Improve your WordPress SEO: Write better content and have a fully optimized WordPress site using Yoast SEO plugin. WordPress out of the box is already technically quite a good platform for SEO.
The Yoast SEO plugins Page Analysis functionality checks simple things you're bound to forget. It checks, for instance, if you have images in your post and whether they have an alt tag containing the focus keyword for that post. The plugin also allows you to write meta titles and descriptions for all your category, tag and custom taxonomy archives, giving you the option to further optimize those pages.
Details: https://wordpress.org/plugins/wordpress-seo/
UpdraftPlus Backup and Restoration:
All Time: 5,618,534 & Active: 8,00,000+
This is one of the most free back up plugin. Backup and restoration made easy. Complete backups; manual or scheduled (backup to S3, Dropbox, Google Drive, Rackspace, FTP, SFTP, email + others).
UpdraftPlus is the highest-ranking backup plugin on wordpress.org, with over 800,000 currently active installs. Widely tested and reliable, this is the world's #1 most popular and mostly highly rated scheduled backup plugin. Millions of backups completed!
Details: https://wordpress.org/plugins/updraftplus/
W3 Total Cache:
All time: 6,126,925 & Active: 1+ million
Easy Web Performance Optimization (WPO) using caching: browser, page, object, database, minify and content delivery network support.
W3 Total Cache improves the user experience of your site by increasing server performance, reducing the download times and providing transparent content delivery network (CDN) integration.
Details: https://wordpress.org/plugins/w3-total-cache/
Contact Form 7:
All time: 40,114,321 & Active: 1+ million
Contact Form 7 can manage multiple contact forms, plus you can customize the form and the mail contents flexibly with simple markup. The form supports Ajax-powered submitting, CAPTCHA, Akismet spam filtering and so on.
It is hard to continue development and support for this free plugin without contributions from users like you. If you enjoy using Contact Form 7 and find it useful, please consider making a donation. Your donation will help encourage and support the plugin's continued development and better user support.
Details: https://wordpress.org/plugins/contact-form-7/
MailChimp:
All time: 4,329,828 & Active: 600,000+
MailChimp for WordPress, the absolute best. Subscribe your WordPress site visitors to your MailChimp lists, with ease.
MailChimp for WordPress helps you add more subscribers to your MailChimp lists using various methods. You can create good looking opt-in forms or integrate with any other form on your site, like your comment, contact or checkout form.
Details: https://wordpress.org/plugins/mailchimp-for-wp/
WP Smuch-Image Optimization:
All time: 3,584,178 & Active: 500,000+
Reduce image file sizes, improve performance and boost your SEO using the free WPMU DEV WordPress Smush API. Resize and optimize all of your images with the incredibly powerful and 100% free image smusher, brought to you by the superteam at WPMU DEV!
Our servers do all the heavy lifting. Strip hidden bulky information from your images and reduce file size without losing quality.
Details: https://wordpress.org/plugins/wp-smushit/
MashShare Social Media Share Buttons:
All Time:497,095 & Active: 40,000+
Social Media Share Buttons for Twitter, Facebook and other social networks. Highly customizable Social Media ecosystem.
A free Social Media Plugin, professional and highly customizable ecosystem for social media sharing and optimizing of your valuable content.
Details: https://wordpress.org/plugins/mashsharer/
N.B:
This is the list of best free WordPress Plugins that is helpful for better development of your site. If you want to use such kind of free WordPress plugin, I will request you to visit WordPress Portfolio Gallery